Run As Administrator
Help ››

Requires Administrator
As of Release 1.2, RestoreMyComputer elevates itself to run as Administrator on startup invoking User Acount Control.
Previous versions needed to be started by invoking 'Run as administrator' as follows.

Try to Run as Administrator by Right Clicking the program's exe file 'RestoreMyComputer.exe'.
Then select Run As Administrator and Left Click.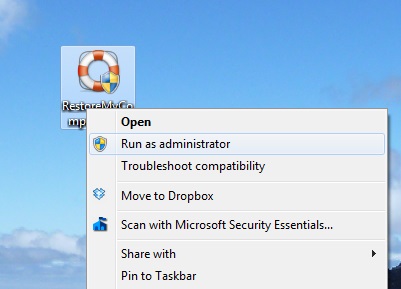 Created with the Personal Edition of HelpNDoc: Easily create HTML Help documents
Created with the Personal Edition of HelpNDoc: Free Kindle producer